The NTN Corporation is the second largest side shaft producer in the world.
The Japanese group, which generates around two thirds of its turnover outside of Japan, is synonymous with the development of new technologies. Be it in the USA, Singapore or Brazil, the company, which started production in March 1918, has grown steadily over the decades and now has production sites all over the globe. In addition to side shafts and propshafts joints NTN also produces bearings and various modules for use in the automotive industry.
Facts, Figures & Dates
Employees: 23,360 worldwide
Turnover: Eur 5.2 billion, of which 2/3 outside of Japan
Year established: 1918
Headquarters: Osaka, Japan
Group of companies comprises 65 subsidiaries worldwide
In Europe: 12 production sites, 3 development sites
For English-language website of the NTN Group
Automotive product spectrum: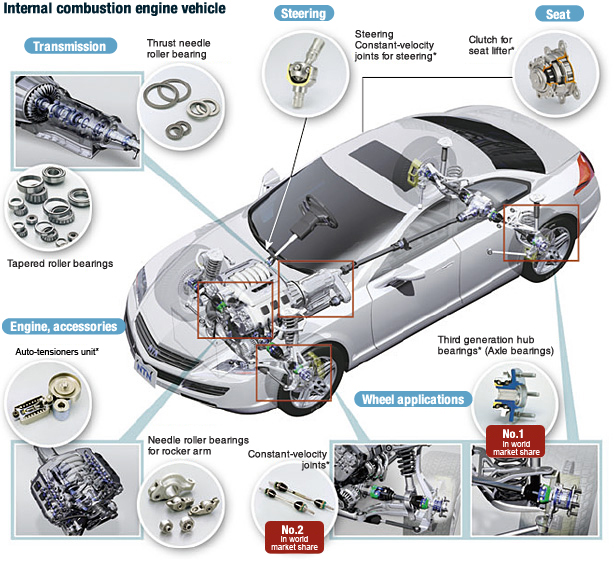 About the NTN Name
The name NTN was created as a trademark by combining the 'N' from Noboru NIWA, a man who raised capital for the business and became the company's first president, Jiro NISHIZONO, the firm's top engineer, and 'T' from the Tomoe Trading Co., which sold the company's products, all of which carried the NTN mark.
The company's name was changed to NTN Mfg. Co., Ltd. and later to Toyo Bearing Mfg. Co., Ltd. (Toyo means "the Orient," a broader area than Japan.)
Today, we are, of course, NTN Corporation.
Upon the last name change in 1989 we applied a new meaning to NTN — "For New Technology Network" (Networking The World With New Technology) — to indicate a shift in focus from the historical meaning to a forward-looking vision.